OWL COOKIES
I came up with these cookies as a treat for my kids' class parties. Not only do they look cute, but they are also delicious.-Starrlette Howard, Ogden, Utah
Provided by Taste of Home
Categories Desserts
Time 50m
Yield 1 dozen.
Number Of Ingredients 13
Steps:
In a large bowl, beat butter, peanut butter and brown sugar until blended. Beat in egg and vanilla. In another bowl, mix flour, oats, baking powder and salt; gradually beat into creamed mixture., If necessary, cover and refrigerate dough 1 hour or until firm enough to shape. Divide dough in half; shape 1 portion into an 8-in.-long roll. Mix melted chocolate into remaining dough. Roll chocolate dough between 2 sheets of waxed paper into an 8-in. square. Place plain roll on chocolate dough. Wrap chocolate dough around plain dough, pinching together at the seam to seal. Wrap and refrigerate 3 hours or until firm., Preheat oven to 350°. Unwrap and cut dough crosswise into 24 slices 3/8 in. thick. To make owls, place two slices side by side on an ungreased baking sheet; pinch the top of each slice for ears. Place a cashew between slices for a beak. Repeat with remaining dough., Bake 12-15 minutes or until set. Cool on pans 5 minutes before removing to wire racks. While cookies are warm, place 2 kisses on each cookie, pointed side down, for eyes. (Kisses will melt slightly.) Top each kiss with a chocolate chip. Cool completely.
Nutrition Facts : Calories 456 calories, Fat 28g fat (12g saturated fat), Cholesterol 45mg cholesterol, Sodium 340mg sodium, Carbohydrate 47g carbohydrate (27g sugars, Fiber 3g fiber), Protein 9g protein.
HOOT OWL COOKIES
A friend gave me this recipe but the original creator is Natialie Riggin from Olmypia, Washington. Two slices of refrigerator cookies are baked together with chocolate chips for the eyes and a cashew nut for the beak. A clever party cookie.
Provided by Curlee
Categories Dessert
Time 3h8m
Yield 48 cookies
Number Of Ingredients 11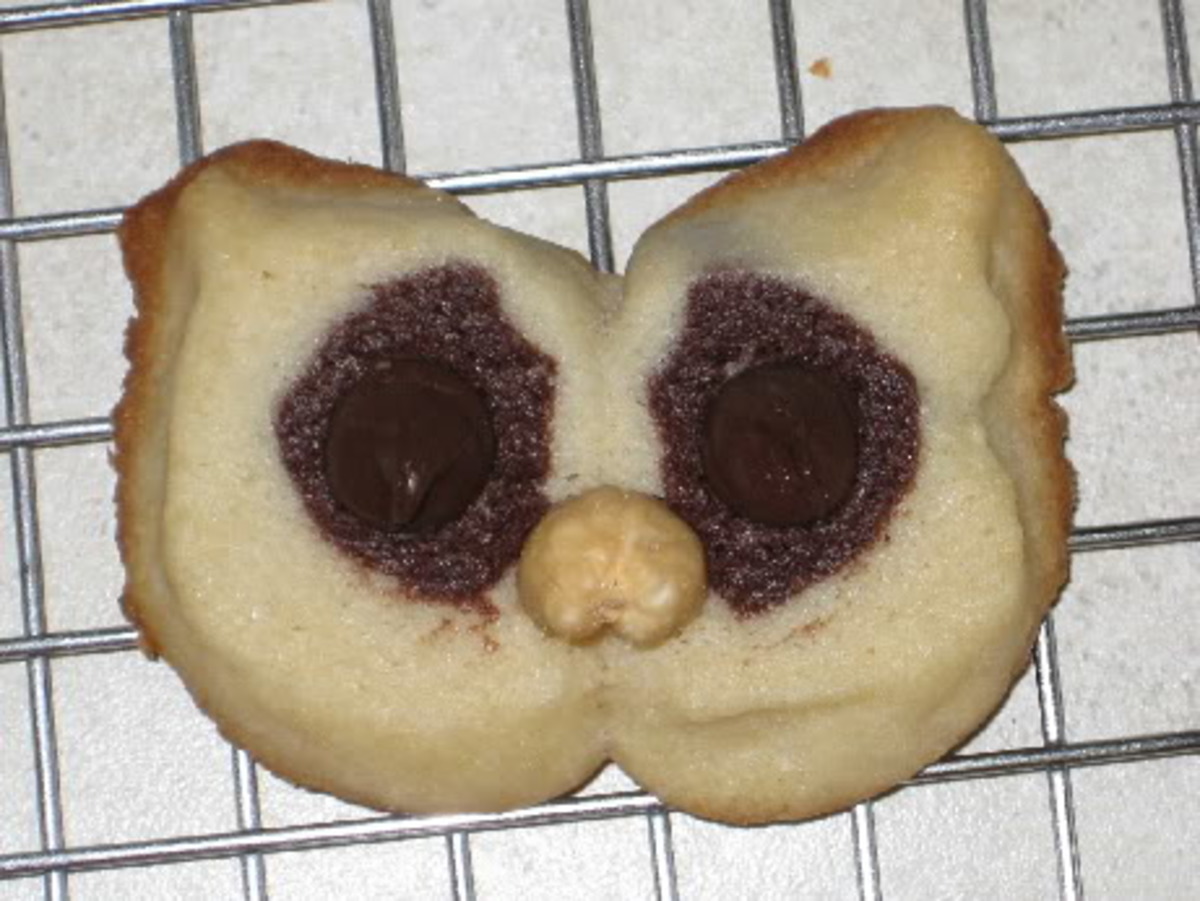 Steps:
Sift together flour, baking powder, salt. Set aside.
Cream butter, gradually add brown sugar, creaming well. Add egg and vanilla; beat well.
Blend in the dry ingredients gradually; mix thoroughly.
Melt chocolate together, cool and add baking soda.
Remove 2/3 of dough to floured surface. Blend chocolate mixture into remaining dough; chill if necessary for easier handling.
Roll out half the light dough to a 10 x 4 1/4" strip. Shape half of dark dough into a roll 10 inches long; place on strip of light dough. Mold sides of light dough around dark: wrap in foil. Repeat with remaining dough. Chill at least 2 hours.
Cut into slices 1/8 to 1/4 inch thick and place two slices toghter on a greased baking sheet to resemble an owl. Pinch a corner of each slice to form ears. Place a chocolate chip in the center of each slice for eyes; press a whole cashew nut between slices for a beak.
Bake 350f 8-12 minutes. Remove from sheets immediately.
Nutrition Facts : Calories 72.9, Fat 3.5, SaturatedFat 2.2, Cholesterol 11.5, Sodium 74.3, Carbohydrate 9.8, Fiber 0.3, Sugar 4.5, Protein 1
People also searched
More about "hoot owl cookies recipes"
HOOT OWL COOKIES - VINTAGE-INSPIRED RECIPE FOR OWL FACE COOKIES
---
HOOT OWL COOKIES PHOTOS
---
HOOT OWL COOKIES - MY VEGAN COOKBOOK
---
OWL COOKIES RECIPE | MYRECIPES
---
HOOT NIBBLES: CARDAMOM SHORTBREAD COOKIES - TIP JUNKIE
---
HOOT OWL COOKIES | RECIPE | COOKIES, OWL COOKIES, VANILLA COOKIES
---
39 OWL PUNS THAT ARE A HOOT - KIDADL
---
HOOT OWL COOKIES
---
DIY HOOT OWL PEANUT BUTTER COOKIES - COOL CREATIVITIES
---
HOOT OWL COOKIES HALLOWEEN SPECIAL WITH STEP BY STEP PICTURE ...
---
BIRTHDAY OWL GIFT BASKET | OWL COOKIE | COOKIES BY DESIGN
---
HOOT OWL COOKIES | TASTY KITCHEN: A HAPPY RECIPE …
---
HOOT OWL COOKIES - REVIEW BY KIM'S COOKING NOW - ALLRECIPES.COM
---
OWL COOKIES RECIPES ALL YOU NEED IS FOOD
---
BIRTHDAY OWL COOKIE BOUQUET | OWL COOKIES - COOKIES BY DESIGN
---
WHAT DO BARRED OWLS EAT? (HOOT OWL DIET) | BIRD FACT
---
HOOT OWL COOKIES | RECIPE | OWL COOKIES, OWL SUGAR COOKIES, OWL …
---
HOOT OWL PEANUT BUTTER COOKIES - GROWING IN GRACE
---
HOW TO TRANSFORM PLAIN COOKIES INTO ADORABLE OWLS FOR …
---
OWL SUGAR COOKIES - CHEEKYKITCHEN
---
HAPPY OWL-OWEEN COOKIES! - HOME IS WHERE THE BOAT IS
---
HOOT OWL COOKIE RECIPE - COOL CREATIVITIES
---
HOOT OWL COOKIES | RECIPE | OWL COOKIES, COOKIE RECIPES, JUST …
---
ALLRECIPES - HOOT OWL COOKIES | FACEBOOK
---
HOOT OWL - CASHIER - FOOD LION | ZOOMINFO.COM
---
HOOT OWL COOKIES | RECIPE | RECIPES, OWL COOKIES, OWL DESSERTS
---
HOOT OWL COOKIE JAR | ETSY CANADA
---
EASY NO BAKE CHOCOLATE HALLOWEEN SNACKS FOR KIDS - ALWAYS THE …
---
HOOT, HOOT! OWL COOKIES FROM MY GRANDMA'S RECIPE | OWL COOKIES, …
---
HOOT OWL
---
OWL EYES COOKIES RECIPE: HOW TO MAKE IT
---
HOOT OWL COOKIES | FALL FOOD FRIDAY - YOUTUBE
---
NIGHT OWL COOKIES IN NORTH MIAMI, WESTCHESTER & WYNWOOD
---
HOOT HOOT HOOT OWL | ETSY
---
SARAH'S OWL COOKIES RECIPE - FOOD.COM
---
HOOT OWL COOKIES - REVIEW BY SOPHIA - ALLRECIPES.COM
---
HOOT OWL COOKIES TASTY RECIPES - DEVONHBLACK.BLOGSPOT.COM
---
HOOT, HOOT! OWL COOKIES | CHAOS SERVED DAILY
---
HOOT OWL COOKIES (SPOOKIES!) - SPACHE THE SPATULA
---
HOOT OWL COOKIES FOR HALLOWEEN - THE MAD SCIENTISTS KITCHEN
---
HOOT OWL COOKIES POPULAR RECIPES - BLAND MORR RECIPES
---
HOOT OWL COOKIES | RECIPE | OWL COOKIES, HALLOWEEN FOOD DISHES, …
---
#time-to-make #course #preparation #occasion #desserts #potluck #fall #finger-food #holiday-event #kid-friendly #cookies-and-brownies #dietary #halloween #seasonal #to-go #presentation #4-hours-or-less
Related Search