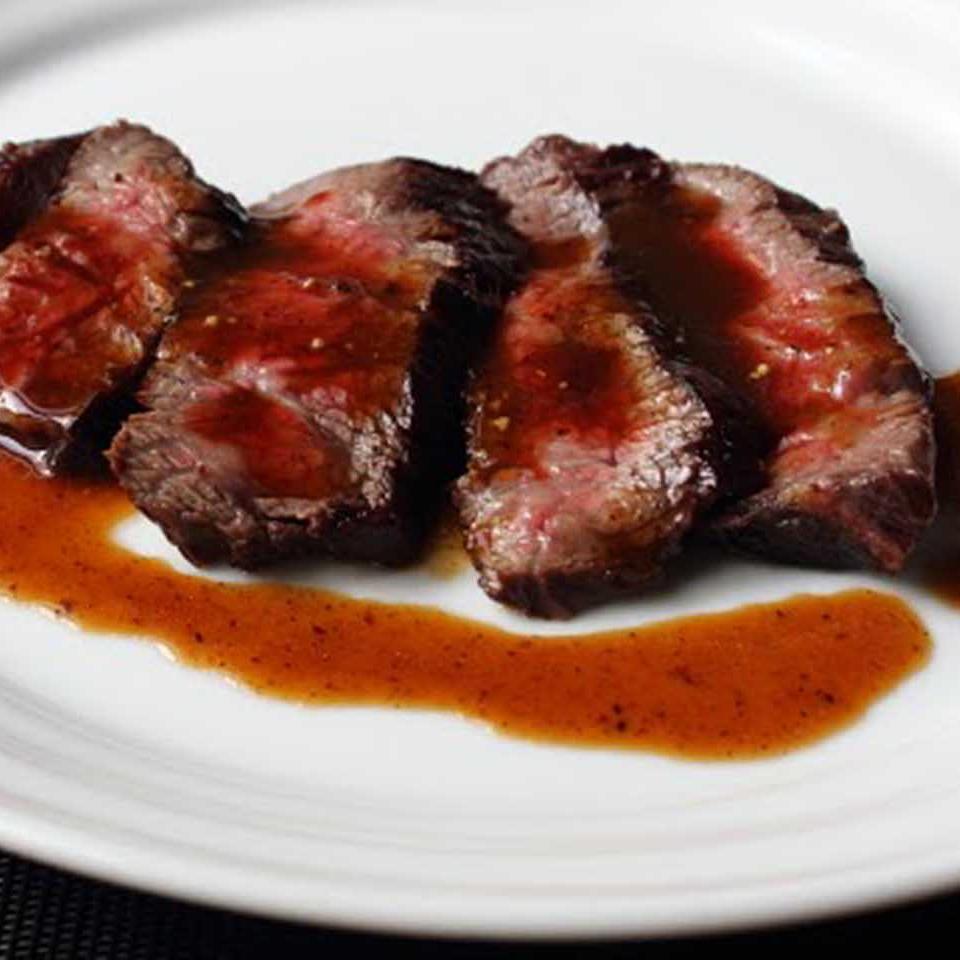 This is my technique for veal demi-glace, and there's not much to it. I'm going for a pure veal stock reduction, fortified with nothing more than mirepoix and tomato. I don't do the classic roux-based espagnole sauce, which is traditionally mixed with veal stock and reduced by half.
Provided by Chef John
Categories Side Dish Sauces and Condiments Recipes Sauce Recipes
Time P1DT5h15m
Yield 36
Number Of Ingredients 8
Ingredients:
10 pounds veal bones (joint and marrow bones)
1 tablespoon vegetable oil
3 onions, cut into eighths
4 carrots, cut into 2-inch pieces
4 ribs celery, cut into 2-inch pieces
1 (6 ounce) can tomato paste
10 quarts cold water
2 cups cold water
Steps:
Preheat oven to 450 degrees F (230 degrees C). Place veal bones in a roasting pan.
Roast bones in the preheated oven until well-browned, about 75 minutes.
While bones are roasting, drizzle oil onto a baking sheet. Spread onion, carrots, and celery onto baking sheet; spread tomato paste over the vegetables and mix to coat.
Roast vegetable mixture in the preheated oven until vegetables are well-browned, about 45 minutes.
Transfer vegetable mixture and bones to a large stockpot. Pour 10 quarts water into stockpot.
Pour 2 cups water into the bones roasting pan, set the pan over high heat, and bring to a boil while scraping the browned bits of food off of the bottom of the pan with a wooden spoon. Pour liquid into the stockpot with the bones.
Bring bones, vegetables, and water in the stockpot to a boil, reduce heat to low, and simmer gently, skimming foam as necessary, until meat and all connective tissue is completely off the bones, about 18 hours.
Set a colander over a bowl and ladle vegetables, bones, and meat into colander. Discard vegetables, bones, and meat; return any broth to the stockpot.
Bring broth to a boil; cook at a boil until liquid reduces to approximately 1 gallon in volume, 30 minutes to 1 hour.
Strain broth through a fine-mesh strainer into a large container set in an ice bath; chill to room temperature. Cover the container with a lid or plastic wrap and chill in the refrigerator until demi-glace is cold and set, 8 hours to overnight.
Scrape and discard any fat from the surface of set demi-glace. Turn demi-glace out onto a work surface. Cut into 16 blocks, wrap each block in plastic wrap, and place wrapped blocks in a resealable plastic bag. Store in the freezer.
Nutrition Facts : Calories 19.2 calories, Carbohydrate 3.6 g, Fat 0.5 g, Fiber 0.8 g, Protein 0.5 g, SaturatedFat 0.1 g, Sodium 57.6 mg, Sugar 1.9 g
Top Asked Questions
What is demi glace and what is it made out of?

What Is Demi Glace and What Is It Made Out Of? Demi-glace is a rich brown sauce often used in French cuisine. It can be served with roasted meats and steaks or used as a base for other sauces, such as mushroom or red wine sauce. The two main components of demi-glace are:

What is a demi-glace recipe?

A basic demi-glace recipe uses both brown stock and Espagnole sauce, which includes tomato puree. As with glace, you could start from square one to make the stock and the sauce from bones and mirepoix (chopped onions, celery, and carrots). An easy demi-glace recipe for home cooks starts with store-bought beef stock.

What kind of stock is used in demi glace sauce?

Brown stock: The traditional preparation of demi-glace sauce is made with veal stock, but some variations use beef or chicken stock. Espagnole sauce: This sauce is one of the five grand (or "mother") sauces of French cuisine (the others being béchamel, velouté, hollandaise, and tomato).

What is the difference between Glace and demi-glace?

Glace and Demi-Glace Definitions and Recipes. In the culinary arts, the word glace refers to a thick, syrup-like reduction of stock which is in turn used to flavor other sauces. The word glace means "glaze" or "ice" in French and it is pronouced "GLOSS.". A demi-glace is a rich, dark sauce made by combining half brown stock and half brown sauce...
Recently Recipes
People also searched
More about "demi glace food"
CHEF JOHN'S CHEATER DEMI-GLACE RECIPE | ALLRECIPES
2022-04-05
From allrecipes.com
Oil a large roasting pan with vegetable oil. Place celery, onions, and carrots in the pan. Drizzle tomato paste over the vegetables; toss together. Arrange chicken wings and beef shanks on the vegetables.
Bake in preheated oven 45 minutes. Turn chicken and beef pieces. Continue roasting until mixture is very well browned and even a bit charred here and there, another 30 to 40 minutes.
---
7 BEST DEMI-GLACE SUBSTITUTES - THE CAPITOL BAKER
2022-04-05
From thecapitolbaker.com
Beef stock. If you are looking for a substitute for beef demi-glace, which is made up of beef stock. Then you can simply make use of beef stock to substitute it.
Beef Bones. Beef marrow bones work as a great substitution in the stock preparation process; however, most chefs think that it can take away the essence of veal bones and remove the creamy and rich taste from the dish.
Beef Gravy. The beef gravy can also work well in place of demi-glace. Plus it is easily available in stores. The store-bought gravy packets are best for preparing jarred beef gravy which has the traits of an authentic demi-glace dish with exact thickness, color, and texture as the original.
---
THE 5 BEST SUBSTITUTES FOR DEMI GLACE | EATDELIGHTS
2022-04-05
From eatdelights.com
Thickened Vegetable Stock or Vegetable Glaze. This is also one of the best substitutes for demi-glace. If you do not have demi-glace available in your house, you can always use thickened vegetable stock or vegetable glaze.
Condensed Stock. Condensed stock can be another great substitute for demi-glace as making demi-glace can be a time consuming process. You can purchase condensed stocks from the supermarket.
Beef Gravy. Yes, beef gravy is another option to substitute demi-glace. You can use the beef gravy bought from the store. Beef gravy is available in powder form as well as in jars.
---
WHAT IS DEMI GLACE AND HOW TO MAKE RESTAURANT QUALITY DEMI ...
2022-04-05
From reluctantgourmet.com
Preheat the oven to 450 degrees F. Place the bones in a roasting pan and roast for 1 hour. Remove the bones from the oven and brush with the tomato paste.
In a stock pot, combine the Espagnole sauce, brown stock and bouquet garni, together, over medium-high heat.
---
DEMI-GLACE OR SEMI-DEMI-GLACE (SIMPLE REDUCTION ... - …
2022-04-05
From food.com
Turn heat down to the lowest heat setting and allow to simmer for several hours until stock has reduced to 1-2 cups (remove any scum that rises to the surface as it simmers).
---
A CLASSIC DEMI-GLACE RECIPE - THE SPRUCE EATS
2009-01-27
A demi-glace is a rich, brown sauce based in French cuisine that is either used on its own or as a foundation for other sauces. It's not a gravy or stock, although the latter is used to make demi-glace. There are quite a few steps involved with making demi-glace, and it's best if you emulate the classical French chefs and follow the traditional method in order to achieve its …
From thespruceeats.com
4.1/5 (96)
Total Time 50 mins
Category Sauces
Calories 64 per serving
---
DEMI-GLACE RECIPE | ROBERT IRVINE | FOOD NETWORK
2016-11-21
Demi glace is a classic French sauce often found at high-end restaurants and used as a foundation for various other sauces, soups and more. The traditional method involves mixing reduced stock ...
From foodnetwork.com
5/5 (2)
Author Robert Irvine
Servings 8
Difficulty Intermediate
---
DEMI-GLACE RECIPE | EMERIL LAGASSE | FOOD NETWORK
2017-03-01
Deselect All. 1 gallon brown stock, hot. 1 bouquet garni. 8 ounces of Madeira. 2 cups Sauteed mushrooms in a saute pan. 8-ounce beef fillet, seasoned and cooked on the grill
From foodnetwork.com
5/5 (2)
Author Emeril Lagasse
Servings 1
---
MORE THAN GOURMET CLASSIC FRENCH DEMI-GLACE, 1.5 …
2022-04-05
This item: More Than Gourmet Classic French Demi-Glace, 1.5 Ounce. $21.66 ($50.96/100 g) Usually ships within 4 to 5 days. Ships from and sold by Golda's Kitchen. FREE Shipping. Minor's Sauce Concentrate, Demi Glace, 13.6 Ounce by Minor's. $38.32. Usually ships within 4 to 5 days. Ships from and sold by Layger.
From amazon.ca
Reviews 1.4K
---
EASY SHORTCUT DEMI-GLACE RECIPE - THE SPRUCE EATS
2014-07-10
Cook for about 3 minutes, stirring frequently until the flour is lightly browned, but by no means burned. Whisk in 3 cups of the beef stock. Bring to a boil over medium-high heat. Then lower the heat to a simmer, add the sachet, and reduce for about 20 minutes, or until the total volume has reduced by about a third.
From thespruceeats.com
Ratings 272
Calories 69 per serving
Category Sauce, Ingredient
---
MORE THAN GOURMET DEMI-GLACE GOLD FRENCH DEMI-GLACE, 16 ...
2022-04-05
I do recommend cutting the demi-glace into 1 oz. pieces and freezing them. Keeps it from spoiling if kept in refrigerator for a long time. Easy to use, melts quickly and I keep it on hand for soups and gravy and seasoning.
From amazon.ca
Reviews 2
---
CLASSIC FRENCH DEMI-GLACE - MORE THAN GOURMET
2022-04-05
Use one part Demi-Glace Gold® to four parts hot water to make a classic demi-glace. Bring to a gentle simmer and whisk until completely dissolved. Available Sizes: 16 oz. (450g) - Makes approximately 2/3 gal. (2.4 l) of classic demi-glace. 1.5 oz. (42.5g) - Makes approximately 1 cup (237 ml) of classic demi-glace.
From morethangourmet.com
---
VEGETABLE DEMI-GLAZE BY KARIME LOPEZ
2022-04-05
Once made, the demi-glace can be stored in batches in the freezer, even in ice cube trays, ready to add extra depth to other dishes, like Lopez's vegetarian croquettes made with leftover cooked vegetables. Step 01. Place vegetable trimmings (can be used from frozen), and any leftover herbs, in a roasting tray lined with parchment paper, and season with olive oil and salt. Step …
From finedininglovers.com
---
DEMI-GLACE BUTTER RECIPE - ANDRAE BOPP | FOOD & WINE
2022-04-05
Stir together shallot mixture, demi-glace, and remaining 7 tablespoons butter in a bowl until combined. Spoon mixture onto a piece of parchment paper. Roll …
From foodandwine.com
---
HOW TO FIND VEAL DEMI GLACE ALTERNATIVES. – SUBSTITUTE NINJA
2022-01-22
FOOD; OUTDOOR KITCHEN; How to Find Veal Demi Glace Alternatives. January 22, 2022 by subninja. When cooking meat dishes, many chefs are looking for a rich, thick sauce to accompany the dish. Veal demi glace is one of the most common sauces that chefs reach for. However, veal is often too expensive or not available to purchase. If you are looking for an …
From substituteninja.com
---
10 BEST DEMI GLACE SAUCE RECIPES | YUMMLY
2022-03-16
Vegetarian Demi Glace Sauce Food.com. tomato puree, allspice berries, red wine, medium sherry, carrots and 11 more. Simple Wine Sauce with Demi Glace The Reluctant Gourmet. unsalted butter, demi-glace, red wine, freshly ground pepper and 1 more. Guided. Homemade Citrus Cranberry Sauce Yummly. cranberries, navel oranges, lemon, sugar, water …
From yummly.com
---
DEMI-GLACE | TRADITIONAL SAUCE FROM FRANCE | TASTEATLAS
2022-04-05
The original recipe for demi-glace was recorded and codified by Georges Auguste Escoffier, a famous French chef and food writer, however it is unclear as to whether Escoffier can be credited as having invented the sauce. Today, this flavorful sauce is mainly used as an accompaniment for meat, but it can also be used as a flavoring for various soups and stews.
From tasteatlas.com
---
DEMI-GLACE - DIABETIC FOODIE
2012-09-21
Step 1: Heat the olive oil in a heavy saucepan over medium-high heat. Step 2: Once the oil is hot, add the celery, onion, and carrots. Cook, stirring frequently, until the onions are just beginning to caramelize, about 10 minutes. Step 3: Add the wine and cook until the sauce is reduced by half, about 5 minutes or so.
From diabeticfoodie.com
---
2022-04-05
Creating traditional Demi Glace can take 10–18 hours from roasting bones, cutting vegetables, straining and skimming stock and more. Ours is made with every bit of quality and authenticity, but eliminates the time and labor. Made without artificial ingredients, we've maintained the use of roasted bones when creating the stocks. With a neutral flavor and clean-label, it's ready for …
From usfoods.com
---
WOLFGANG PUCK'S VEAL DEMI-GLACE RECIPE: HOW TO MAKE DEMI ...
2021-08-26
Wolfgang Puck. 's Veal Demi-Glace Recipe: How to Make Demi-Glace. Written by the MasterClass staff. Last updated: Aug 26, 2021 • 2 min read. A foundational French sauce now rarely found outside cooking school and fancy restaurants, homemade demi-glace can add rich flavor and body to sauces and soups.
From masterclass.com
---
DEMI GLACE WHOLE FOODS - ALL INFORMATION ABOUT HEALTHY ...
2022-04-05
Demi Glace Gold, 1.5 oz - Whole Foods Market hot products.wholefoodsmarket.com. Roasted Turkey Demi Glace, 1.5 oz DISCLAIMER: PRICES AND AVAILABILITY ARE SUBJECT TO CHANGE WITHOUT NOTICE. OFFERS ARE SPECIFIC TO STORE LISTED ABOVE AND LIMITED TO IN-STORE.
From therecipes.info
---
WHAT IS DEMI-GLACE AND HOW TO MAKE IT - MORE THAN GOURMET
2022-04-05
Demi-glace is an incredibly rich, thick sauce that's made from reducing brown (veal or beef, traditionally) stock and red wine or Espagnole sauce down to an almost syrup consistency. It's commonly used as a stand-alone sauce in classic dishes or as a base for other sauces. Because it packs such a powerful punch of flavor, chefs love using ...
From morethangourmet.com
---
WHERE TO FIND DEMI-GLACE? - REDFLAGDEALS.COM FORUMS
2019-05-07
Demi-glace is totally different than stock, bouillion cubes, Better than Bouillion or some of these other things. If thats really what you want you will likely have to order/buy from a fancy food store or higher end retailer.
From forums.redflagdeals.com
---
2022-04-05
Demi-glace (French pronunciation: [dəmi ɡlas], 'half glaze') is a rich brown sauce in French cuisine used by itself or as a base for other sauces. The term comes from the French word glace, which, when used in reference to a sauce, means "icing" or "glaze."It is traditionally made by combining one part Espagnole sauce and one part brown stock. The sauce is then reduced by …
From en.wikipedia.org
---
WHERE TO FIND DEMI GLACE IN GROCERY STORE – VALUABLE KITCHEN
2022-04-05
When storing leftover demi glace in the freezer, the first thing is to let the demi glace cool down at room temperature. Once it has cooled down, the demi glace jellifies. Place the demi glace in an airtight container or a freezer bag. Label the bag with the date in which you are placing the demi glace in the freezer. This will help you to recall when it is most likely to turn bad. Demi …
From valuablekitchen.com
---
60 DEMI GLACE IDEAS | DEMI GLACE, FOOD, SAUCE RECIPES
2022-04-05
Sep 16, 2017 - Explore Christy Rolf's board "Demi Glace" on Pinterest. See more ideas about demi glace, food, sauce recipes.
From pinterest.com
---
DEMI GLACE PASTE GRAVY BASES- ULTRAFOODS FOOD SERVICE ...
2022-04-05
Demi Glace Paste. $ 15.00 – $ 90.00. SKU: S/P-012. Category: Gravy Bases. Major's Demi Glace Paste is the perfect base to create Hunter, Madiera, and peppercorn sauces to name a few. It is ready to use, and saves plenty of prep time.
From ultrafoods.ca
---
FOOD WISHES VIDEO RECIPES: "CHEATER" DEMI GLACE – BECAUSE ...
2016-05-24
Enjoy! YouTube. Makes about 2 quarts of "Cheater" Demi Glace: 5 pounds whole chicken wings. 2 pounds beef shanks (about three 1-inch thick slices) 2 onions, chopped (including skins) 2 carrots, chopped. 3 ribs celery, chopped. 3 tablespoons tomato paste.
From foodwishes.blogspot.com
---
WHAT IS BEEF DEMI GLACE AND WHERE TO BUY THE BEST ONE ...
2022-03-21
Demi-glace originated in France as part of classic French cuisine, but has been adopted into other cuisines such as Italian, Japanese, and the United States with some twists on the recipes. It is often used to top meats and vegetables for extra flavor. The word demi glace literally translates to "half glaze", referring to its thickness compared to regular sauces that are …
From cookindocs.com
---
DEMI-GLACE - KITCHEN DICTIONARY - FOOD.COM
2022-04-05
Demi-glace. Pronounced: DEHM-ee glahs. Nutrition. A rich espagnole sauce, that is slowly cooked with beef stock and madeira or sherry until reduced by half, resulting in a deep meaty flavored glaze. This intensely flavored reduction is used as a base for producing wonderful, rich, velvety sauces and soups.
From food.com
---
FREEZING DEMI-GLACE - HOME COOKING - CHOWHOUND
2015-01-01
Using red table wine in either the classic stock OR the demi-glace will render results that are suitable for a nice boeuf Bourguignon, which is, after all, quite likely what it was used for at Les Halles, but it will NOT result in a classic demi-glace suitable for all of the myriad secondary sauces demi-glace is treasured for. So if you want a classic demi-glace, OMIT the …
From chowhound.com
---
BEST DEMI-GLACE SUBSTITUTES - COOK GEM
2022-04-05
Demi-glace is one of those foods that seems like it keeps forever. As such, you can keep it refrigerated for about six months or frozen almost indefinitely. Because it has such a long lifespan, many people prefer to make a whole bunch at once and will freeze the rest for later use. Because a lot of effort goes into making traditional demi-glace, some chefs will substitute simple veal …
From cookgem.com
---
DEMI-GLACE VS. GRAVY - A COMPLETE GUIDE - TASTYLICIOUS
2021-08-18
While a demi-glace can be poured over food like a tender filet mignon, it is often used as a flavor base in stews, casseroles, rice, and soup. Depending on the amount of food you're cooking, usually, only one or two tablespoons of the sauce is all that's needed. Any more and the demi-glace will swiftly overwhelm the dish. Other handy uses for demi-glace include …
From tastylicious.com
---
DEMI-GLACE SAUCE RECIPES - BBC FOOD
2022-04-05
Demi-glace sauce is a rich brown sauce often used by chefs. It is made from a reduction of clear stock and sauce espagnole – stock that has been thickened with a roux, diced vegetables and ...
From bbc.co.uk
---
MARCO'S DEMI GLACE SAUCE - READY FOODS — READY FOODS
2022-04-05
Marco's Demi Glace is a traditional, flavorful sauce made with a rich veal stock, simmered in mire poix, and combined with merlot and thyme. It may be traditional, but it's not only for steaks. This demi glace can take a contemporary dish up a notch with its rich flavor profile.
From readyfoods.biz
---
FOOD WISHES VIDEO RECIPES: DEMI-GLACE: PART 1 – FEEL THE VEAL
2015-03-24
Enjoy! YouTube. Ingredients for 3-4 quarts of Demi-Glace: 10 lbs veal bones, joints and marrow bones. 1 tbsp vegetable oil. 4 carrots, cut in 2-inch pieces. 3 onions, cut in eighths (I did without thinking, but you don't have to peel the onions) 4 ribs celery, cut in 2-inch pieces. 1 (6-oz) can tomato paste.
From foodwishes.blogspot.com
---
SUBSTITUTES FOR BEEF DEMI-GLACE - LEAFTV
2022-04-05
Low-end demi-glace sauce concentrates cost less than half the price of higher-end concentrates due on account of the ingredients used. The main ingredient in most of these concentrates is modified food starch, followed by maltodextrin, cooked beef fat, partially hydrogenated soybean and/or cottonseed oils, concentrated beef broth, butter oil, salt, dextrose, hydrolyzed corn …
From leaf.tv
---
KNORR® PROFESSIONAL DEMI GLACE SAUCE MIX 6 X 813 GR
2022-04-05
This demi-glace mix delivers a perfect balance of beef, mirepoix, and tomato flavours that is certain to impress your guests. The demi-glace sauce comes in a dry format that is easy to prepare: simply add sauce mix to warm water, whisk until smooth, cook to 185 degrees Fahrenheit for 30 seconds, and serve. Packaging. 813 gr, Pack of 6. Container.
From unileverfoodsolutions.ca
---
DEMI GLACE GOLD, 1 EACH AT WHOLE FOODS MARKET
2022-04-05
Demi Glace Gold, 1 each. Select a store to see accurate pricing. Find a store to see pricing. To add this product to your list, login. Ingredients. Nutrition Facts. Ingredients. Ingredients: Veal Stock (Veal Bones, Water), Roux (Made of Wheat Flour and Veal Fat), Modified Food Starch, Mirepoix Stock (Made of Carrot, Celery, and Onion Stocks ...
From wholefoodsmarket.com
---
CLASSIC FRENCH DEMI GLACE, 42.5G - THE GOURMET WAREHOUSE
2022-04-05
Demi-Glace Gold® is reduced four times from the classic and allows you to make elegant finished French sauces quickly and easily. Our low-heat cooking techniques and 30-hour reduction process give the demi-glace a beautiful shine, flavor, and texture, which make finished sauces that are glossy to the eye and decided in taste. - Ingredients: Veal Stock (veal bones, …
From gourmetwarehouse.ca
---
BEST STORE BOUGHT DEMI-GLACE - CHOWHOUND FOOD COMMUNITY
2012-07-08
Demi-glaces are the province of upscale supermarkets and food boutiques, rather pricey for most folks to use other than or special recipes. And they are usually used, in small amounts, to enrich sauces, rather than to make soups or stews. If you mean bases, all supermarkets routinely carry them.
From chowhound.com
---
DEMI GLACE, MAKE OR BUY? - INSPIRED CUISINE
2022-04-05
Glace de Viande, also known as Veal Demi Glace… is the French secret ingredient added to dark complex sauces. The addition of Veal Demi Glace to any brown sauce is the component that makes sauces creamy smooth. This was the component added to French Lentils to create, what I think, is an incredibly rich flavor. Many people think that the creamy consistency of a sauce …
From inspiredcuisine.ca
---
DEMI-GLACE: HOW TO MAKE THIS CLASSIC, FLAVORFUL SAUCE ...
2022-04-05
Demi-glace is made by combining brown stock and Espagnole sauce, then reducing it for several hours until it transforms into a thick, meaty glaze. When the term demi-glace is used on its own, it implies the glaze is made from the traditional veal stock. However, by using other types of stock, you can make variations of the sauce, like beef demi glace or chicken demi glace. Reducing …
From skillshare.com
---
21 DEMI GLACE IDEAS | DEMI GLACE, FOOD, GLACE RECIPE
2022-04-05
Jan 9, 2017 - Explore Colleen Felt's board "demi glace" on Pinterest. See more ideas about demi glace, food, glace recipe.
From pinterest.ca
---
DEMI-GLACE DERIVATIVE SAUCES | THE CULINARY COOK
2015-03-11
Add 500 mL of dry white wine and simmer for 15 minutes until reduced by three-fourths. Then add your demi-glace and simmer for another 15 minutes. Strain through a fine strainer. Finish the sauce with 60 g of meat glaze (Brown Stock reduced by 9/10s) and mount with 100 g (3 1/2 oz) of butter.
From theculinarycook.com
---
EASY TO MAKE CHICKEN DEMI-GLACE RECIPE - THEFOODXP
2022-04-05
Chicken demi-glace can be prepared by simmering chicken wings in a pot and extracting the pronounced flavor. Remove the bones and add white wine, onion, carrot, celery, leek, peppercorns, and bay leaves in it. Boil and cook for 1-2 hours. Cook once so that the mixture gets reduced by three-fourths.
From thefoodxp.com
---
THE 10 BEST RESTAURANTS IN NORTHERN VIRGINIA OF 2020
2020-10-23
It's amplified by a pool of rich demi-glace that enrobes every element on the plate in a savory meatiness. There are the garden vegetables, which means multicolored carrots and cauliflower from the garden on-site, not some faraway farm. The thin bar of au gratin potatoes melts and stretches with cheese. It's a dish your grandparents would have loved, likely their …
From northernvirginiamag.com
---
Related Search