VEGETABLE AND SHRIMP LUMPIA RECIPE BY TASTY
Cooking for a crowd and need the perfect appetizer? Try making these shrimp and veggie-stuffed lumpia, or, as they're referred to in the Philippines, lumpia togue-- togue meaning bean sprout. Your guests will love the crisp wrappers and flavor-packed filling, and you will love how quickly a batch can be whipped up. You can also make these ahead of time, freeze, and fry a few days later!
Provided by Katie Aubin
Categories Sides
Time 30m
Yield 16 lumpias
Number Of Ingredients 22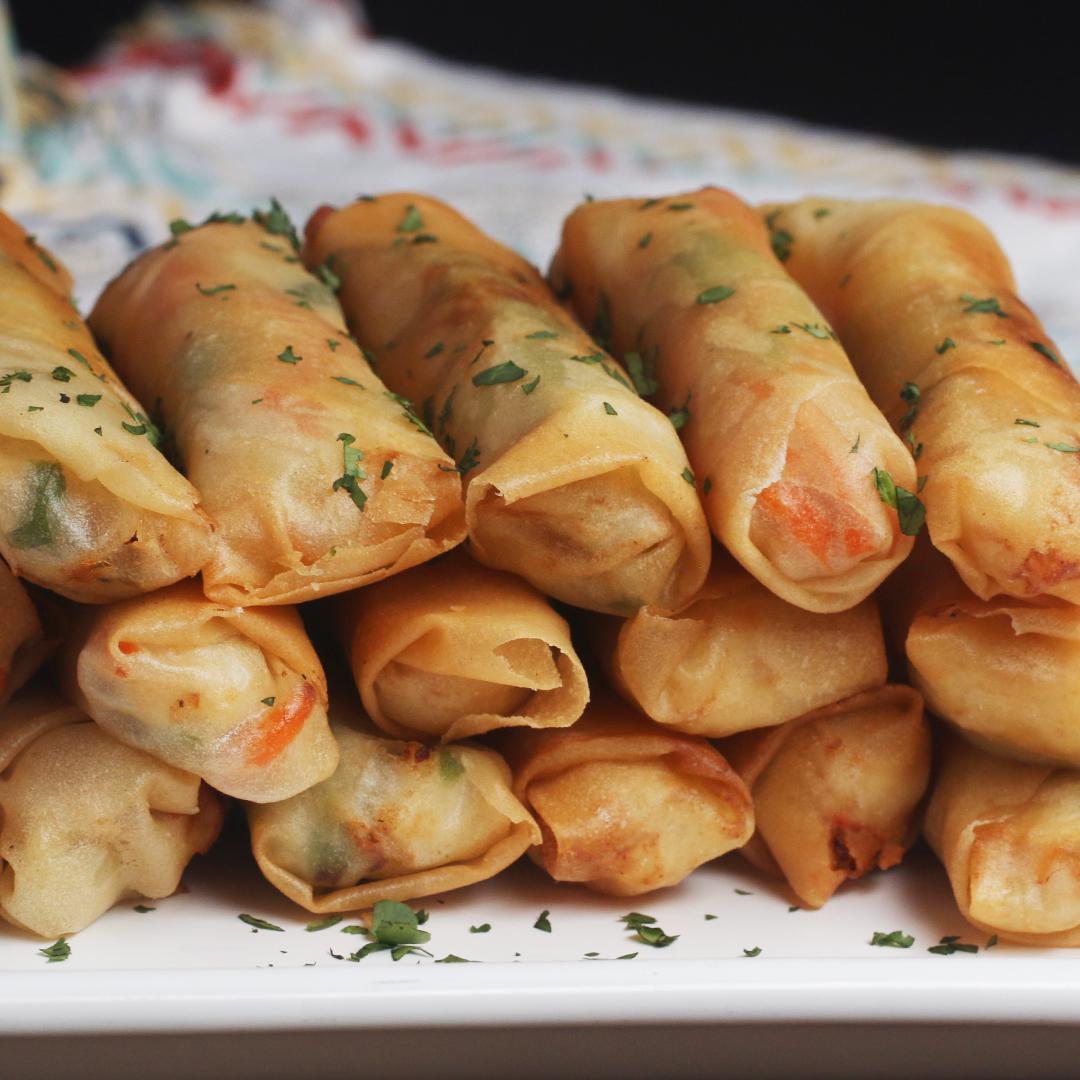 Steps:
Make the sweet chili sauce: In a small pot over medium heat, mix together ½ cup (120 ml) of water, the garlic, Fresno chilies, sugar, rice vinegar, and salt. Bring to a boil, then reduce the heat to low and simmer for 2 minutes.
In a small bowl, whisk together the cornstarch and remaining tablespoon of water.
Whisk the cornstarch slurry into the sauce until fully incorporated. Continue to simmer for 1 minute, or until the mixture has thickened. Remove from the heat and let cool.
Make the lumpia: Julienne the carrots. Cut the green beans on the diagonal.
In a large skillet, heat the vegetable oil over medium-high heat. Add the onion and cook for 3 minutes or until slightly tender.
Add the garlic and ginger, and continue cooking for 2 minutes more, until fragrant.
Add the carrots and green beans, and toss to combine. Add the shrimp, fish sauce, salt, pepper, and rice vinegar, and cook for 2 minutes or until shrimp is pink.
Add the bean sprouts, toss to incorporate, and remove the pan from the heat.
Lay out a lumpia wrapper in a diamond shape and spoon 2 tablespoons of filling onto the bottom of the wrapper, leaving about 1½ inches (4 cm) of space from the bottom point.
Fold the bottom point over the filling, then fold in the edges to create an envelope shape. Roll the wrapper toward the top point. Brush the top point with egg wash and finish the roll to seal the end. Repeat with the remaining wrappers and filling.
In a large, deep skillet, heat 1 inch (2.5 cm) of canola oil to 300°F (150°C).
Carefully add 4-5 lumpia at a time to the hot oil. Fry on each side for 1-2 minutes, or until golden brown. Note: If the lumpia are cooking too quickly or burning, reduce the heat. Remove the lumpia from the oil and drain on a wire rack or paper towels.
Garnish with cilantro and serve with the sweet chili sauce.
Enjoy!
Nutrition Facts : Calories 207 calories, Carbohydrate 30 grams, Fat 5 grams, Fiber 1 gram, Protein 9 grams, Sugar 6 grams
More about "shrimpbilbaina recipes"
SHRIMP BILBAINA RECIPE - FOOD.COM
---
8 FOODS HIGH IN INULIN YOU SHOULD BE EATING FOR BETTER GUT HEALTH
---
CARIBBEAN SHRIMP BURGER RECIPE (VIDEO) - A SPICY PERSPECTIVE
---
FOOD AND WINE'S BEST SHRIMP RECIPES | FOOD & WINE
---
PALAWAN'S MUST-EAT DISHES - FOODIE DELIGHT - TRAVEL PALAWAN
---
WHAT TYPES OF FOOD DO BAMBOO SHRIMP EAT? - AQUARIUM CARE …
---
BENIHANA HIBACHI SHRIMP RECIPE - SECRET COPYCAT RESTAURANT …
---
THE 10 BEST RESTAURANTS IN WARRENTON - TRIPADVISOR
---
HOW TO MAKE HUMMINGBIRD FOOD: 12 STEPS (WITH PICTURES)
---
BEST BETTA FISH FOOD | WHAT TO FEED & HOW MUCH - BETTAFISH.ORG
---
15 AUTHENTIC UKRAINIAN FOODS - INSANELY GOOD
---
THE 10 BEST FOODS THAT HELP FLATTEN YOUR BELLY - EAT THIS NOT THAT
---
12 OF THE HEALTHIEST FOODS TO EAT FOR BREAKFAST
---
DIY SHRIMP FOOD - CARE, FEEDING AND BREEDING - THE SHRIMP SPOT
---
WHAT DO SHRIMP EAT? | SHRIMP DIET BY TYPES | BIOLOGY EXPLORER
---
BAMBOO SHRIMP – DETAILED GUIDE: CARE, DIET AND BREEDING
---
TOP 10 BULGARIAN FOODS - TRADITIONAL BULGARIAN DISHES
---
THE 21 BEST DISHES TO EAT IN CAMBODIA - CULTURE TRIP
---
RECIPE: EELS 'BILBAíNA' STYLE.. SPANISH CUISINE - SPAIN.INFO
---
TOP 10 REASONS NOT TO EAT SHRIMP | PETA
---
WHAT LEAVES CAN I FEED MY SHRIMP? | SHRIMPTIPS
---
EL SALVADOR FOODS. 20 TRADITIONAL SALVADORAN FOODS TO TRY TODAY
---
FOOD OF ARUNACHAL PRADESH | 10 SCRUMPTIOUS DISHES FROM
---
8 FOODS THAT ARE FATAL TO RABBITS (OR NEVER BE FED TO A RABBIT)
---
25 TRADITIONAL BAHAMIAN FOODS - INSANELY GOOD
---
BAMBOO SHRIMP CARE & SPECIES OVERVIEW | FISHKEEPING WORLD
---
20 EXOTIC BOLIVIAN FOODS TO KEEP YOUR TASTE BUDS BUSY
---
20 FOODS AND DRINKS THAT HELP WITH BLOATING - HEALTHLINE
---
15 HEALTHY FOODS HIGH IN B VITAMINS
---
THE 25 MOST POPULAR HONDURAN FOODS - CHEF'S PENCIL
---
THE 15 BEST RABBIT FOOD & PELLETS – TOP PICKS & REVIEWS 2022
---
CARIBBEAN SHRIMP BOWL RECIPE: HOW TO MAKE IT - TASTE OF HOME
---
TOP 32 FOODS THAT BURN BELLY FAT FAST: BEST INTO 2022
---
16 BIBIMBAP BOWL RECIPES THAT'LL MAKE DINNER A BREEZE - BRIT - CO
---
60 FOODS THAT BURN BELLY FAT - DIETS MEAL PLAN
---
5 FACTS THAT WILL MAKE YOU THINK TWICE ABOUT EATING IMPORTED, …
---
CHICANA FOODS
---
HOW TO COOK BENIHANA SHRIMP | OUR EVERYDAY LIFE
---
13 TRADITIONAL GUYANA FOODS EVERYONE SHOULD TRY - MEDMUNCH
---
CREAMY SHRIMP BISQUE RECIPE - CHEF BILLY PARISI
---
WHAT DO BRINE SHRIMPS EAT | BREED THE BRINE SHRIMP
---
BENIHANA SHRIMP RECIPE - FOOD.COM
---
THE 10 BEST FOODS FOR IBS SYMPTOMS - VERYWELL HEALTH
---
18 FOOD PROCESSING PLANTS BURNED TO THE GROUND?
---
THESE 15 FOODS COULD HARM OR KILL YOUR RABBIT | PETA
---
7 BEST SHRIMP FOODS TO FEED YOUR FRESHWATER AQUARIUM …
---
40 BEST FOODS THAT BURN BELLY FAT: WHAT TO EAT TO LOSE WEIGHT IN …
---
LIBERIAN FOOD: MOST DELICIOUS LIBERIAN MEALS | EPERSIANFOOD
---
Related Search